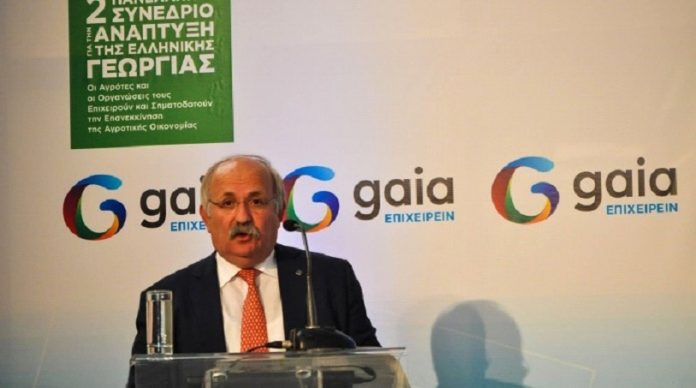 A new ambitious program which aims to improve the competitiveness of Greek agricultural products was announced during the 2nd Panhellenic Conference on the Development of the Greek Agriculture by Mr. Christodoulos Antoniadis, Deputy Chief Executive Officer of Piraeus Bank and President of GAIA Epicheirein.
"We proceed to a new initiative by investing in the development of Smart Agriculture", Mr. Antoniadis stated, among others, and continued: "It is all about an innovative project that foresees the progressive installation, within the next five years, of a network of 10,000 telemetric stations that will cover the whole arable land of the country for precision agriculture applications, using environmental data such as alerts on crop diseases, irrigation, fertilization, extreme weather conditions etc.".
The network, named GAIA Sense, consists of an increasing number of GAIA TRON telemetric stations that are designed and developed by NEUROPUBLIC S.A., a Greek innovative SME. GAIA TRONs combine unique characteristics, such as low development cost and maintenance, energy autonomy, increased portability thanks to their compact size and interoperability both among them through a wireless mesh network as well as with the existing GAIA EPICHEIREIN cloud-based infrastructure and platform.
In addition, Mr. Antoniadis highlighted the fact that Piraeus Bank is willing to take over the investment cost of this network «because we believe that its installation and operation will contribute to the qualitative and quantitative improvement of agricultural production, reduce costs, improve the farmers' income and at the same time it will save natural resources, the latter being one of the major issues nowadays. At the same time, it will contribute to the facilitation of investment initiatives and the attraction of additional capitals in agricultural economy, resulting to facelift of the rural districts».