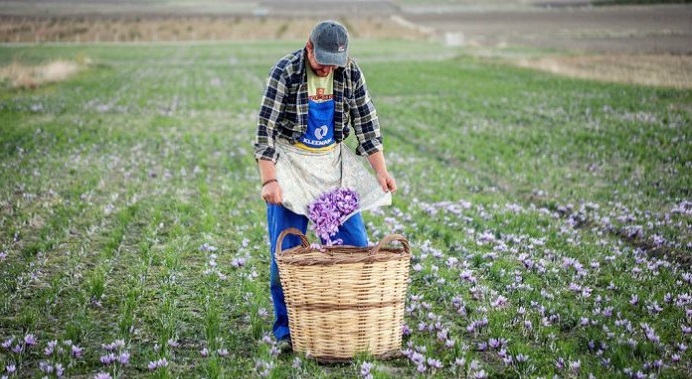 Saffron from Kozani is placing a double bet this period. It opens two new promising channels targeting to a greater added value both for the product itself and the producers.
An alternative commercial diode of high added value, the one of cosmetology, saffron from Kozani is trying to exploit during this period. The most ancient spice, the value of which surpassed the value of gold, is being converted for the very first time into a cosmetic product and takes the road of the market of world beauty through Korres Natural Products Company. The "Golden Saffron", the first cosmetics product having the golden product of the lands of Kozani as its basic ingredient, is expected to broaden the recognition of the well-known Greek saffron, opening a new window of chance.
"Obviously, the product opens new commercial roads for the saffron from Kozani. Only the internationalization of the brand of the well-known saffron through the extroversion of the Korres store chain is enough to significantly enhance the recognition of the product, in its own favor as well in favor of its producers" stated to the "YX" the president of the cooperative of saffron producers of Kozani, Mr. Nikos Patsiouras.
At the same moment, the national product is very close to enter a market which was a "faraway dream for ages", the market of China. Starting from the New Year, packaged in a special package for the Chinese market, the golden saffron from Kozani will make its debut on the retail shelves of the largest market of the world.
Elixir
In the meantime, during this period, the "Golden Saffron" an elixir of youth, product of the cooperation of Korres with the cooperative of Saffron producers of Kozani, which integrates -for the very first time- the saffron of Kozani and all the rare antioxidant characteristics at the daily care, is positioned at the Greek shelves. According to Korres, the valuable red stamens, which are carefully selected one by one, are being processed at the company's extraction unit. More specifically, the fresh red biological extraction is converted to cosmetic cream within 24 hours from its production in order to achieve maximum antioxidant effectiveness.
Extroversion
At a time when premium agricultural products is expected -more imperatively than ever- to operate as ambassadors of the Greek brand in the international markets, saffron is getting ready to undertake the role of the "national ambassador" in very promising market of the world, the Chinese one. Practically, it regards the implementation of an agreement, which was made last year by the cooperative with a large, commercial Chinese company, for the shipment of the standardized Greek saffron, initially at a range of 250 kilos annually, for the respective retail market.