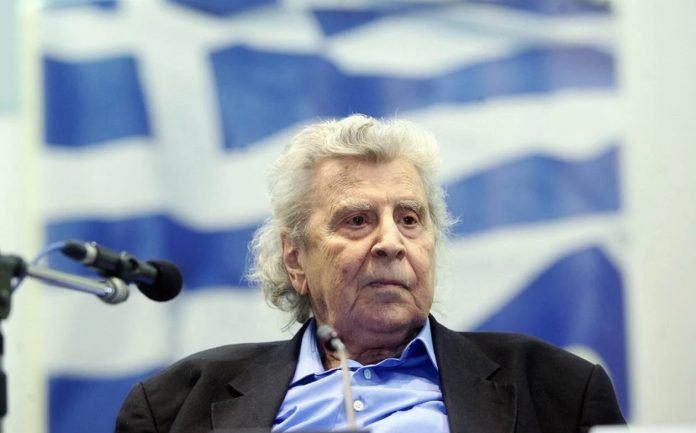 Countries from all over the world paid homage to Mikis Theodorakis, the greatest Greek composer in its history, whose music has touched generations.
Mikis, as he is affectionately known by millions of Greeks around the world, died at his home in central Athens on Thursday. He was 96.
Greece declared a three-day national mourning period after his death, as the President of Ireland, Michael D. Higgins, was among the first to salute his contribution not only to world music but "for his role in protecting Greek democracy."
The US Embassy in Greece said that Theodorakis embodied the "indomitable spirit of the Greek people."
"We mark the passing of the renowned Greek composer Mikis Theodorakis, who introduced to the world the unforgettable score of "Zorba the Greek," "The Ballad of Mauthausen," and countless compositions imbued w/ the call for democracy and the indomitable spirit of the Greek people."
France was Mikis Theodorakis' second home since the 1950s and offered him refuge during the Greek dictatorship, the French Institute in Greece said on Thursday, in its tribute to the late great Greek composer.
On its website, the institute posted a photograph of Theodorakis after he was appointed Commander of the Legion of Honor, France's highest French order of merit.
At the conferring in the French Embassy in 2007, Theodorakis noted that his most popular songs were written in Paris, where both his children were born, the institute said. He also recalled his friendship with French statesman François Mitterrand.
"Freedom, music and politics: for Mikis Theodorakis these three words were inextricably linked with Paris and France. Mikis Theodorakis is immortal," the institute added.
Cuba highlighted the great friendship Theodorakis established with Fidel Castro and Ernesto Che Guevara.
Mikis Theodorakis was a symbol of Greece for Russian citizens
The death of Greek composer Mikis Theodorakis is an irreplaceable loss not only for Greek people but for the entire world, Russian Foreign Affairs Ministry spokesperson Maria Zakharova said on Thursday.
Mentioning that Theodorakis had been decorated with several Russian and Soviet medals of distinction, she noted that his music became "a symbol of Greece for Russian citizens and for peoples across our country."
Zakharova described the Greek composer as a "familiar person," as "I think I grew up with his music, and I learned about his name."
In public schools like the one she attended, Zakharova noted, his works were taught in music class and his biography was also studied. She also quoted him during her press briefing as saying that he felt very close to Russia, in admiration and gratitude for its sacrifices to save the world from Nazism.
Together with the Greek people, admirers of music all over the world and in Israel will mourn the passing of Mikis Theodorakis, the Embassy of Israel to Greece tweeted on Thursday.
"His work, mirror to his soul and Greek history, echoes in Israeli music and life. The 'Ballad of Mauthausen,' an important and beautiful musical piece on the Holocaust, speaks for the many, whose voice was lost forever," the embassy said.
"Despite some differences and arguments, we remember him and cherish his contribution to the world of music and humanity which will continue to live on."
Theodorakis contribution to Turkish-Greek friendship
The mayor of Istanbul Ekrem İmamoğlu highlighted Theodorakis' contribution to Turkish-Greek friendship.
"Very sad to hear about the passing of legendary composer Mikis Theodorakis. Theodorakis was renowned not only for his music but also for the immense contributions he has made to Turkish-Greek friendship throughout his lifetime. His legacy of music and peace shall live on forever."
Zulfu Livaneli, a Turkish poet and songwriter who also collaborated with Theodorakis, described him as the "last great Greek." "The essence of the music he took from his people, he created it with new compositions. This is what all great composers do. So did Beethoven, Bach, Wagner, with the German spirit. And Theodorakis took the Greek spirit and the Greek musical tradition, created it and transformed it," he said.
Mikis Theodorakis was much-loved in China and had an effect across the world, the Chinese Embassy to Greece tweeted on Thursday.
"His work and ideas had a global impact and he was known and loved in China, while he was always in favor of strengthening bilateral relations," the tweet stated.
"May his memory live forever," it concluded.
His brilliant music compositions, recognized worldwide, will forever be identified with Hellenism, while also reminding us of his relentless struggle for Democracy, Freedom and Justice. May you Rest In Peace, Mikis Theodorakis.